Filipino Martial Arts (FMA)
The goal of the Filipino Martial Arts Workshop of Budapest is to demonstrate, to practice and to research Filipino martial arts and the culture of the Philippines. Eskrima / Arnis / Kali may be approached from thousands of different angles: practical fighting techniques, ancient wisdom, tradition, dancing, meditation and healing.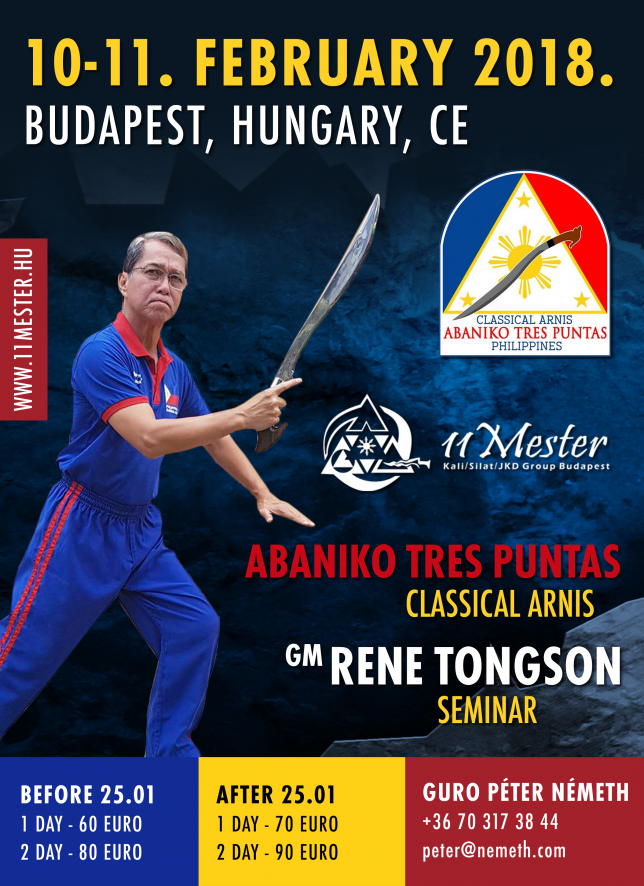 Life is a Fight, Fight is an Art
We have trainings of JKD, Panantukan, Stick Fighting, Knife Fighting; Trainings for Kids, Self Defence for Women, and Personal Trainings. While we practise fighting techniques we also learn respect, self-discipline, perseverance, presence and attention.
We welcome everyone who wishes to practice with us. We welcome boys, girls, men and women. We welcome young and old people alike. We welcome students and workers at full time jobs. The basic condition for people who wish to do trainings is that you should have a head, two hands and to legs on your body.
Come to our trainings. You do not have to register beforehand. There aren't any hidden pieces of information. You can find all information on these pages. Please, read it carefully and if you like it, come and visit our training room, which is in the 8th district of Budapest, in Bezerédi Street 4.
Welcome!
You can watch the trainings but it is much better if you join the trainings. It is similar to going to a pastry shop. If you see a nice piece of cake behind the glass it is better to taste it while you are in the shop rather then to go away and try it some other time.
If you walk down the few stairs that lead to our gym from the street you will see people who are similar to you. They also have one head, two legs and two arms. They try to move their four limbs in harmony… They do it with more or less success.
You should bring clothes for the training in which you can move comfortably. I am not a clothes designer so you are free to wear any clothes you like as long as it is clean and safe. (I feel respect to our style from your part if you wear a T-shirt that represents our style after 2 or 3 months of training with us. I feel disrespect from your part if you advertise a different martial arts style in my trainings.)
The first training is free whatever style of training you take part in – Come and see and check it out without any commitment.
Bring your friend or girlfriend to our training!
There is a high chance that he or she will like the training, too!
If he or she enrols to a training you will get a 50% discount from the next monthly ticket.
Students, policemen, soldiers, paramedics and fire fighters get a constant 10% discount.
Everything is simple. Just step on the path, start practising and sooner or later you will see the results!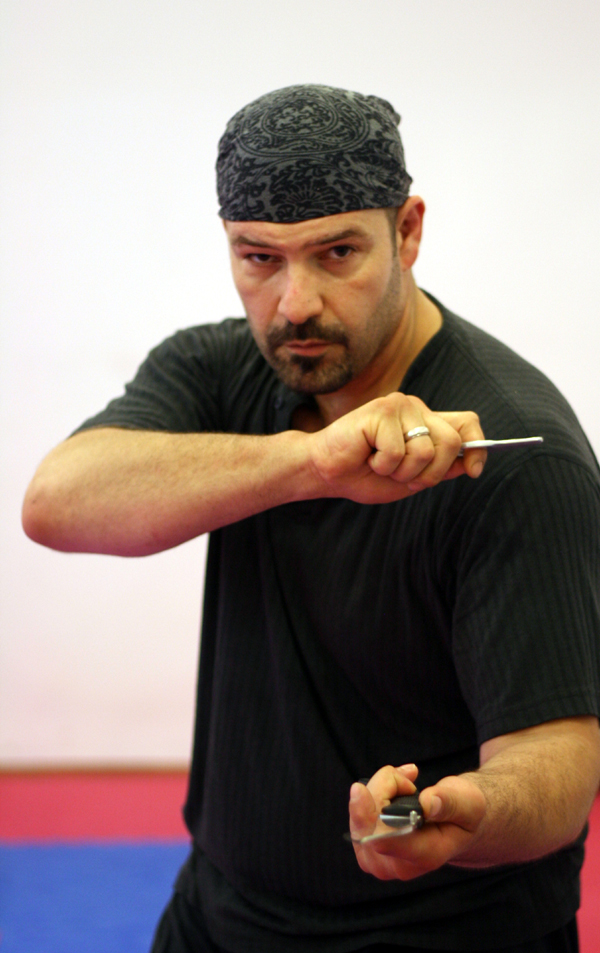 – Manong –
Péter Németh
Wing Chun, Jeet Kune Do, Inosanto Kali, FCS Kali, CQC Police Judo instructor