Martial Arts Coach – Budapest
My name is Péter Németh. I was born in Budapest in 1970, in Hungary. I have been involved with martial arts since I was six years old.
I graduated in TF (SOTE – Testnevelési Főiskola) (Semmelweis Medical University – College of Physical Education) as a Kung Fu instructor.
I learnt Judo from Master Ferenc Galla for six years beginning in 1976. I trained in Thai Boxing (Pin Kune Do) in the school of Csaba Tölgyesi. I studied Aikido for two years in the schools of Oginyan Kozhuharov and Balázs Szabó.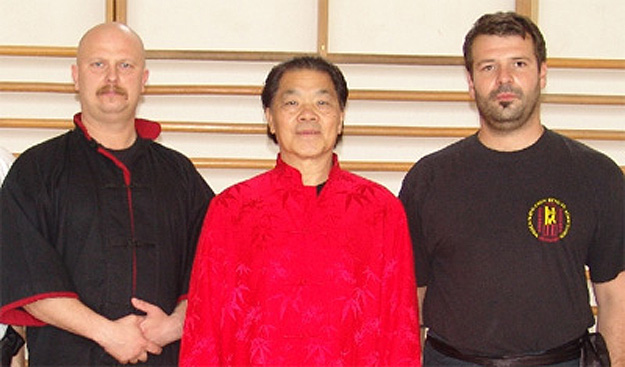 I became interested in Wing Tsun King Fu in 1987 and I was a private student of Sifu Norbert Máday for two years. Later on became an instructor in the style of Wing Chun Kung Fu, that is lead by Grand Master William Cheung. I passed my exams of Kick Boxing (1st dan), Wing Chun Kung Fu (5th master degree in the World Wing Chun Federation), and instructor of Inosanto Kali and of JKD. These exams were signed by Sifu Zoltán Juhász. I have been teaching Wing Chun Kung Fu since 2002.
I have been fortunate enough to meet Grand Master William Cheung and Grand Master Lo Man Kam in person and I could learn in private lessons from them.
I started to learn the Jeet June Do and Inosanto Kali systems in 2002. I became an assistant instructor teaching next to my master in 2004. I passed my instructor's exam in 2006 and I have been teaching these systems independently.
I was fortunate enough to meet and learn from masters Guro Dan Inosanto, Guro Bob Green and Guro Steve Wright.
I also passed the following self-defence method units based on the Inosanto Kali system: Knife-fighting, Tactical stick fighting and Palm Stick fighting.
I passed my exam of the 2nd instructor's grade of Inosanto Kali system in 2011.
I also participated in seminars to have a deeper insight to martial arts.
– I also learned CQC (Close Quarter Combat) system and Archipelago Kali from Master Hock Hockheim.
– I also learnt the Filipino Combatives Kali system from Tuhon Felix Cortez.
– Grand Master Dionisio Canete taught me the basics of the system of Doce Pares Eskrima.
– I studied Kyusho from Master Steve Stewart (8th dan)
The more I have learnt from the systems of Kali, Eskrima, Arnis and Silat, the more commitment I have felt and continue to feel towards the martial arts of the Philippines, of Indonesia and of Malaysia.
I have been learning the FCS Style of Kali (Filipino Combat Systems) personally from Tuhon Ray Dionaldo since 2008 in Hungary and abroad.
I have been teaching FCS Kali system since 2010.
I have been the instructor of the FCS system since 2012. I have been the 6th instructor in Europe and the 49th instructor in the world.
I have been learning the Sayoc Kali system since 2011 by the leadership of Guro Krishna Godhania.
I have taught more than 1000 students and more than 100 private students. I have held trainings in private lessons, group lessons, in seminars and in summer camps.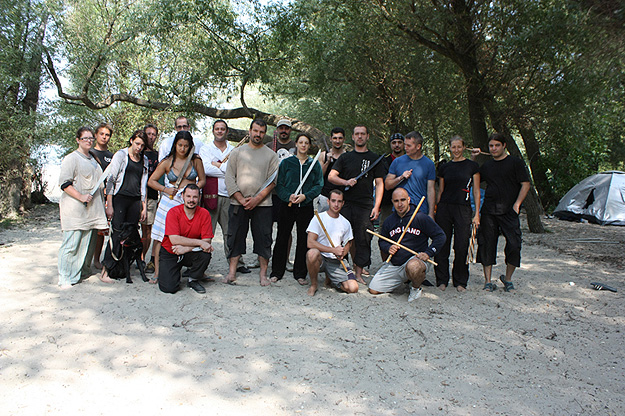 My students are men and women. The youngest one is 6 years old and the oldest one is 57 years old. Most of them are amateur sportsmen but some of my students became teachers, instructors in a given system. Some of my students are deeply committed to martial arts. They are professional sportsmen, masters or instructors of martial arts. Some of my students are expert trainers in the army, in the police force and some of them work for the Customs Office
I am proud to have taught a Colonel of a secret service, the close combat trainers of soldiers who served in Iraq and in Afghanistan (I will not mention the names of these persons, of course), an important trainer in the Hungarian Krav Maga association, and several of my students who serve the police force or the Security Force of the Hungarian Government.
The focus of trainings is the aspects of fighting and self-defence, and the modern application of these. I want to train the warriors of the present age…
Most of my students do not use Kali in the way it was used in the Philippine archipelago for hundreds of years. My students are not head hunters. They do not sneak in the dark to steal a boat from a neighbouring island. They do not walk silently to a Spanish galley to kill the night guard silently. They do not intend to join a guerrilla force in some of the jungles. They only want to be ready for combat whenever it comes!
Fighting has changed a great deal since the middle ages. But its intensity has not ceased. Our life is at stake. It is very important to know our own boundaries. To know our self-esteem, our self control, our personal power, our aggression and our fears. It is important to be focused and to be present in our own life!
Nothing is over complicated. Just take the first step on the path, start practicing and you will see its results.
Everything is simple. Just step on the path, start practising and sooner or later you will see the results!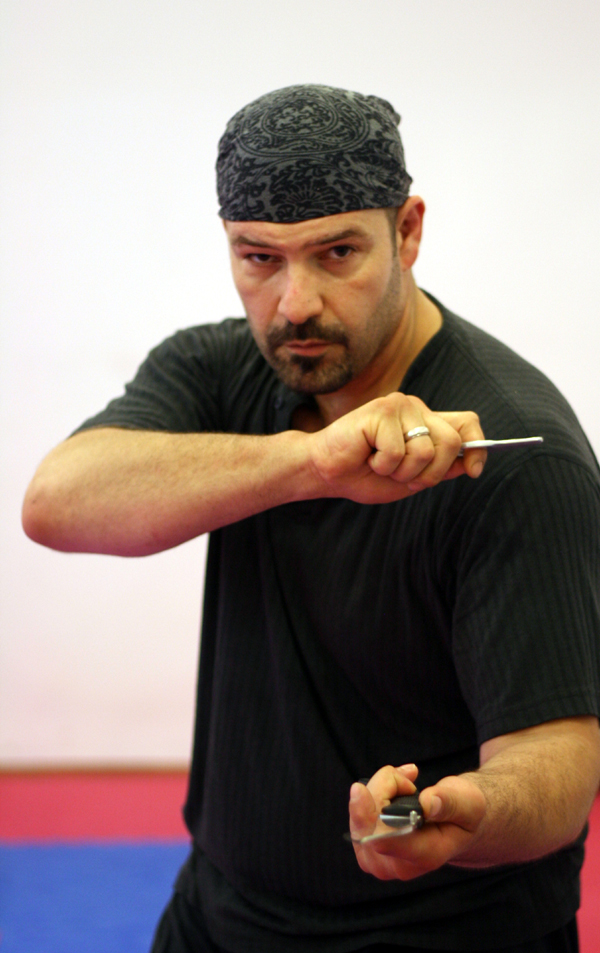 Péter Németh
– Manong –
Wing Chun, JKD, Inosanto Kali, FCS Kali, CQC Police Judo
Instructor