What is this?
It is a personal martial arts training or it is a personal training based on martial arts the goal of which is to enhance your physical and mental condition, to develop your coordination, your power and your flexibility.
Any martial arts system can be a tool which you may use to observe, to change and to transform yourself. You can change your body, your consciousness and your emotions.
Let me quote one of my students: "A funny little game of punches and kicks in the mornings makes me an organised person."
What is training like?
It is customized to the person who is being trained.
You may choose what you would like to learn:
Traditional Wing Chun
Jeet Kune Do
Escrima/Kali – stick fighting
Knife fighting
You may also like to have a mixture of the above mentioned arts. What I mean by that is that it would be similar to such a cocktail that has all the effective medicines in it while it tastes good.
Parts of the trainings are:
warming up
stretching your body
doing exercises that make your body stronger
drills that require a pair of target hitting boxing gloves
Chi Sao drills – these are contact drills that develop reflexes
Bare hands fighting exercises
Punches
Kicks
Drills of taking your opponent to the ground
Ground fighting
Hitting the sandbox
Sparring exercises with boxing gloves
Self-defence
Disarming techniques
Knife fighting drills based on the LaCosta – Inosanto knife fighting system
Breathing exercises
Where are the trainings?
I usually hold these trainings in the downtown gym in Budapest. Seldom, when the weather is fine I keep open air trainings.
When can I have a personal training?
Personal trainings are conducted from morning to early afternoon. Apart from that we could have training or regular trainings based on any other time that suits both of us.
Who can apply for personal training?
I am ready to hold personal trainings to everyone who would like to dedicate his or her time to martial arts. There are boys and girls, young men and women among my pupils. I have a student who is 8 years old and I also have a student who is 52 years old. If you only want to have a physical training session that will make you sweat in the morning that is just fine, you will find here what you are looking for. If you want to learn Wing Chun Kung Fu or if you want to learn Jeet Kune Do or if you want to have physical trainings with drills which are similar to Kick Boxing training then you may consult me. If you want to learn stick fighting, knife fighting or bare handed fighting techniques based on the Philippine fighting system of Kali you will be satisfied by personal trainings. If you want to take part in a physical training when you move all parts of your body, or if you want to develop your quickness, your stamina and your punching power it is the right place for you.
If you have never done any sports activities in your life and do not have an idea how to start it
If you have been training for a long time but you feel that it is monotonous and you can not see any more development
If you do not feel familiar in the world of exercise rooms
If you have a weight problem or any other health problem that requires special assistance
If you need to be motivated continuously because you can not do it alone
If you are young and want to become more effective
If you are old and want to have a safe training
Who am I?
My name is Péter Németh. I was born in January of 1970. I have been doing martial arts since I was 6 years old. I have ended up in many blind alleys and in the gym of false and self-proclaimed masters whose name I will not mention. However, I will mention all those masters of mine who are masters of their system as well as masters of their humanity. They are the following:
I have learned Judo from the helping hands of Ferenc Galla. I have done Thai Boxing (Pin Kune Do) in the school of Csaba Tölgyessi. I have practiced Aikido in the schools of Oginyan Kozhuharov and Balázs Szabó.
I met the system of Wing Chun in 1987. I am learning Wing Chun from Sifu Zoltán Juhász and I am one of his instructors in Budapest. He is also teaching me so that I can be better in the systems of Jeet Kune Do and Kali.
I graduated in SOTE- College of Physical Education as a kung fu trainer.
You can call me or send me a text message or send me an email. Let us match our schedules and you can have a try.
The first training is free. Have a free try and you are not committed yet. If you like it, we can discuss about further trainings.
Phone: +36 70 317 38 44
Everything is simple. Just step on the path, start practising and sooner or later you will see the results!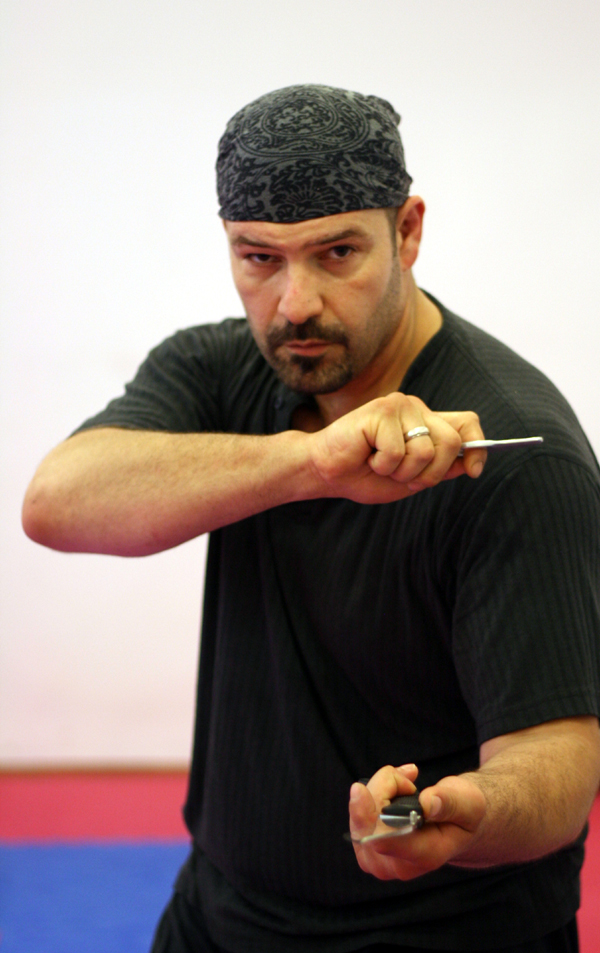 Péter Németh
– Manong –
Inosanto Kali & Filipino Combat Systems Kali
Instructor